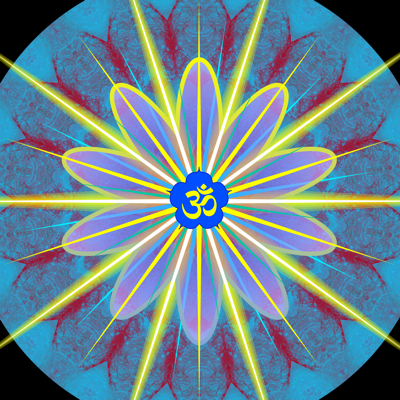 It's easy to create stunning, radially symmetrical designs with MandalaMaker™!

That's because MandalaMaker™ places image elements relative to the center and radii of your drawing. This is unlike most drawing or painting programs which place elements based on rectangular coordinates.

MandalaMaker™ is easy and fun to use, but it is not (just) a toy. A great addition to any digital artist's toolbox, the program powerfully combines vector-based shapes with pixel-based images to create anything from crisp, sharp-edged line art to soft, ethereal images. MandalaMaker™ outputs SVG files as well as high quality JPEG or PNG images at up to 600 dpi.

MandalaMaker™ is used by designers, artists, healing professionals, schools and crafters worldwide to:
Draw stunning digital artworks
Explore how geometry and art relate
Create diagrams for meditation or healing
Author coloring books
Design high impact logos
Enhance skin art designs
Develop templates for wood carving, stained glass and quilting
Produce SVG files for use with cutters and plotters
Features:
Shape-based drawing

- easy to learn, a lifetime to master

Editable layers

- you can reorder, revise, remove, or revamp any shape in your drawing

Color Transparency

- allows background shapes to show through foreground shapes, creating subtle, beautiful results

Gradient Fills

- shade colors together for dramatic, almost three-dimensional effects

Export

- export mandalas as SVG files or custom-sized JPEG or PNG images at up to 600 dpi

Transform Effect

- draws a series of shapes while morphing one or more of the shape's attributes

Image Effects

(version 3 only) - import JPEG, PNG, GIF or BMP images and apply scale, rotaion, color and tiling and other effects

Text Support

- add signatures and text elements to your images


We know that MandalaMaker™ is the most capable tool for creating digital mandalas,
but you don't have to take our word for it.

Try out MandalaMaker™ for ten days absolutely free.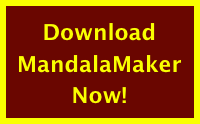 Installing and Un-installing
For illustrated directions, see the MandalaMaker™ Manuals:

MandalaMaker™ 2 Manual

•

MandalaMaker™ 3 Manual
macOS Installation

The Mac distribution is packaged as a disk image (DMG) file.

Once you activate the download link, OS X should mount and open the image on your Mac.


Install by dragging the MandalaMaker-3.x app icon in the installer window to your Applications folder. A handy alias to the Applications folder is provided for this purpose.


Once you confirm that MandalaMaker™ has been installed in the Applications folder, you can eject the "MandalaMaker Installer" virtual disk from your Desktop by selecting it and pressing ⌘- E. The downloaded disk image (.dmg) file may also be deleted.


Press ⌘-spacebar to open Spotlight. Begin typing "MandalaMaker." As soon as MandalaMaker shows up in the search results, click on it to launch the program.


If you want to be able to launch MandalaMaker™ from the Dock, let the program launch and then click on its icon in the Dock and when the pop-up menu appears, choose "Options -> Keep in Dock"

Windows Installation

The Windows distribution is packaged as a standard Windows installer.

Once you activate the download link, you should see a dialog asking whether you want to Run or Save the download.


Select Run and then click through the installer screens.


When the installer completes, you will find shortcuts to MandalaMaker™ installed on your Desktop and in the Programs area of the Start Menu.

macOS Un-install

The directions below will remove MandalaMaker™, it's support files and any bundled Java packages.

From the Finder's Go Menu, choose Applications to open the Applications folder.


Locate the "MandalaMaker" folder within Applications.


Drag the "MandalaMaker" folder to the Trash or select the folder and press Command-Delete on the keyboard.


Empty the Trash. (Be aware that this will delete all the items in your Trash, not just MandalaMaker™.)

These directions assume that you installed MandalaMaker™ as detailed in the install directions above. It is possible that you might have placed the "MandalaMaker" folder in a location other than the Applications folder. In this case, you can locate the "MandalaMaker" folder via a Finder or Spotlight search and then follow the directions above to Trash the folder.

Windows Un-install

The directions below will remove MandalaMaker™, it's support files and any bundled Java packages.

From the Start Menu, choose Control Panels.


In Control Panels, find Programs > Uninstall a Program.


Find and select MandalaMaker™ in the list of programs.


Choose Uninstall.


If asked "Are you sure you want to uninstall MandalaMaker?" choose Yes.